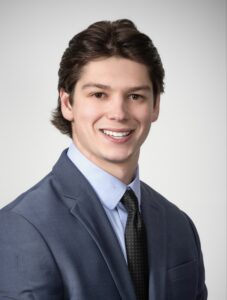 Richard is an ambitious and dedicated professional specializing in commercial real estate. With a background in urban planning and development, Richard brings a unique perspective to the table, ensuring that his clients receive the most comprehensive and strategic advice for their real estate needs.
A proud graduate of Miami University of Ohio, where he majored in Urban Planning and Development, Richard has always possessed a deep fascination with the intricate dynamics of urban landscapes. His education provided him with a solid foundation in understanding the complexities of zoning regulations, land use, and the economic factors that shape real estate markets.
But Richard's expertise extends far beyond the classroom. Over the years, he has honed his skills through hands-on experience, successfully running and starting multiple companies centered around negotiation. These ventures have not only allowed him to fine-tune his business acumen but have also provided him with invaluable insights into the art of deal-making. Richard understands the power of effective negotiation and utilizes this skill to secure optimal outcomes for his clients.
While Richard may be relatively new to the commercial real estate scene, his ambition and passion for helping clients set him apart. He possesses a tireless work ethic and an unwavering commitment to excellence, always going above and beyond to ensure his clients' satisfaction. Richard approaches each transaction with a fresh perspective, seeking innovative solutions that maximize his clients' investments and align with their long-term goals.
Clients who work with Richard can expect a highly personalized and collaborative experience. He listens attentively to their unique needs and aspirations, tailoring his approach accordingly. Richard believes that successful real estate transactions are built on trust, open communication, and transparent guidance. With his exceptional interpersonal skills, he fosters strong relationships with clients, ensuring that they feel supported and informed throughout the entire process.
Whether you're a seasoned investor seeking to expand your commercial portfolio or a newcomer to the real estate market, Richard is dedicated to providing you with unparalleled service. By leveraging his expertise in urban planning, his astute negotiation abilities, and his unwavering ambition, Richard is ready to guide you towards your real estate goals, turning your vision into reality.
In his free time, Richard enjoys automotive racing at Mid-Ohio Raceway, playing with his dog Jerry, and meeting new people in the greater Columbus area.