Momi Land Playground's third central Ohio location will be in Gahanna
by: Sarah Donaldson
Posted: May 15, 2023 / 06:30 AM EDT
Updated: May 15, 2023 / 08:40 AM EDT
GAHANNA, Ohio (WCMH) — A central Ohio indoor children's playground with locations in Hilliard and Polaris will add a third in Gahanna.
Momi Land Indoor Playground announced in a news release its plans on May 1 for the Gahanna playground, which will be in the Hunter's Ridge Mall Shopping Center at 310 S. Hamilton Road — in the location that temporarily housed the Gahanna branch of the Columbus Metropolitan Library.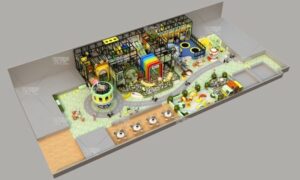 A draft rendering of the future Gahanna location of Momi Land Indoor Playground. (Courtesy Rendering/Momi Land Indoor Playground)
The 8,000-square-foot storefront will eventually boast a 40,000-ball pit, multi-floor slides, kitchen and grocery store playsets, rock climbing walls, and more — all in bright hues. Children ages 8 and younger who are shorter than 4'6″ are allowed inside Momi Land, according to its website.
Grace Liu, who co-founded Momi Land in 2019, said in the release she was excited to bring the brand to the east side of Columbus. Momi Land will also soon start accepting franchise applications so that franchisees can bring Momi Land outside of Columbus, she said.
"We are thrilled to expand our footprint," Liu said. "We've received tremendous support from the local community since our first opening, and we are excited to bring our unique play experience to more families."
To play, parents can either pay for children's individual entry or purchase a monthly, summer, or annual membership package. Momi Land also offers party packages, having hosted more than 1,5000 parties since 2019, according to the release.
The Gahanna indoor playground should be opening in fall 2023, and will hold promotions and other activities leading up to its opening day. More information can be found on its website here.
Original Article Found Here: https://www.nbc4i.com/news/local-news/gahanna/momi-land-playgrounds-third-central-ohio-location-will-be-in-gahanna/