Ease Logistics to establish new$25 million headquarters, nearly double workforce in Dublin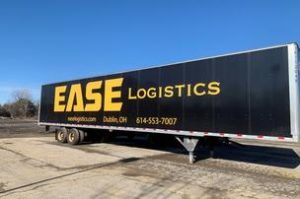 A growing logistics firm is plotting anew global headquarters in Dublin, where it will invest $25 million and nearly double its local workforce.
Ease Logistics, a multi-operational supply chain and transportation solutions provider, plans to restore abuilding at 6000 Perimeter Dr. in Dublin for its new headquarters, the company announced Monday in a news release. Ease is currently based at 5725 Avery Road, which is about 2miles away from the new building.
Pending local approvals, Ease will invest more than $25 million forreal estate, repairs and sustainability measures in the building. It will also create 140 full-time jobs across all departments, including sales, account operations, marketing, accounting and IT, by 2025.Those jobs will generate $7 million in new annual payroll, and the company will retain another $14.2 million in existing payroll from its current employees.
"We are excited to continue to grow in Dublin, and our new global headquarters will allow Ease to create additional jobs for the great workforce that's already in the Columbus region," Ease President and CEO Peter Coratola said in the news release.
The newly renovated headquarters will be known as the Ease Building. The company says the revitalization project will bring the building up to city codes and guidelines, making it sustainable for the future as a global headquarters site. The renovation will focus on sustainable practices such as recycling materials used during construction, installing solar panels and using energy-saving lights.
Along with serving as Ease's new headquarters, the property will feature an indoor-outdoor community gathering space where the company will host events such as community meetings, philanthropic events and food truck festivals. Ease will also dedicate space for a startup incubator that aims to foster new businesses and promote entrepreneurship in logistics-adjacent industries.
"Ease has been an incredible community partner for Dublin, and their long-term focus on making sure the new building supports the community and fellow business partners speaks highly of their stewardship to the city," Dublin Director of Economic Development Jennifer Klus said in the release. "This is an exciting venture for all of Dublin."
Coratola added the building also will feature interior design work from members of the community.
"Community impact is one of the most important initiatives for Ease, so we look forward to bringing the community inside our building to decorate the halls, install artwork by local artists and creatively highlight our homegrown roots," Coratola said in the release.
To support the project, the Ohio Tax Credit Authority on Monday approved an eight-year, 1.4% incentive for Ease. The tax credit has an estimated value of $710,000, and requires the company to maintain operations at the project location for at least 11 years.
The Ease project will add to what is already a robust logistics market in Central Ohio. The region's location gives companies access to more of the U.S. population and employment base than
any other major metro area, according to the release. Within a day's drive, companies can reach 151 million people and 42,100headquarters. That's 46% of the country's population base and 48%of headquarter operations.
"The need to move goods quickly, safely and at the right temperature has never been more apparent, and Ease Logistics investment demonstrates Ohio's leading role in establishing a stronger, more efficient global supply chain," Jobs Ohio Presidentand CEO J.P. Nauseef said in the release. "The company's decision to establish an expanded headquarters in Dublin will revitalize a vacant building while creating 140 new jobs to support growing demand for Ease Logistics' customers worldwide."
This is the latest in a series of real estate transactions and investments for the relatively young company. Ease tripled its local footprint with the acquisition of its current headquarters building
at the start of 2020, then purchased another nearby building for an expansion project in 2021.
Founded in Dublin in 2014, Ease Logistics offers supply chain and transportation solutions that assist in delivering products and goods to customers throughout its global network. It is one of the largest privately held companies in Central Ohio, according to research by Columbus Business First. The company's revenue was$186.7 million in 2021.
John Bush
Staff reporter
Columbus Business First