Xtreme Express Plots $20 Million Expansion To Establish Large Blacklick Campus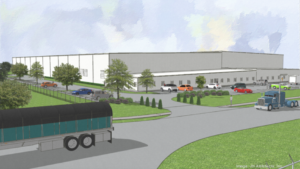 A rendering of a new addition to Xtreme Express' facility in Blacklick.
By John Bush  –  Staff reporter, Columbus Business First
Sep 19, 2022
A growing logistics firm is embarking on an approximately $20 million project to expand and consolidate its Columbus operations in one large campus.
Xtreme Express recently began the first of a multi-phase effort to grow its footprint while bringing all its local facilities together in the same place. The company partnered with Elter Building Systems and Alterra Real Estate Advisors — two other Central Ohio businesses — on the project.
The first two phases will be additions to the company's existing home at 6611 Broughton Ave. in Blacklick, while the third phase will involve ground-up construction of a separate building on land Xtreme Express is acquiring next to its current facility. Phase one is an 80,000-square-foot warehouse and office extension to the east, and phase two is a 46,000-square-foot warehouse addition to the south.
The third phase will be a new, 70,000-square-foot building that will house more warehousing. Xtreme Express Owner Fernando Crosa said he may also move one of his other businesses, Xtreme Limo, to the new building. Xtreme Limo is currently located near Dublin, and is in the same facility as another one of his companies, US Tank Alliance.
"This campus is designed and built for logistics and warehousing for Xtreme Express, but if it ends up fitting with a couple other entities that I have, I would look at it," Crosa said. "That's down the road."
With roughly 46,000 square feet on its current facility, Xtreme Express will have more than 240,000 square feet of space when all three phases of the project are complete. That's more than five times larger than the company's current footprint in Columbus. The company also owns a building in Cincinnati and leases space in Cleveland.
Along with the new additions, Xtreme Express will move operations from leased space at two other Central Ohio facilities into the east Columbus campus.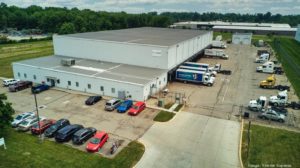 An aerial view of Xtreme Express' current campus in Blacklick.
The purpose of the project is not only to support the company's growth — Crosa said Xtreme Express "busting at the seams" — but also to consolidate all local services in one location. Xtreme Express officials say this will streamline operations for customers, and allow the firm to add other services such as fulfillment. That's something the company hasn't been able to do in the past due to space limitations.
"Our goal is to be able to provide every major logistics and transportation service you'd need in this space," Xtreme Express President Adam Oakerson said. "We want to become a one-stop shop where we can pick up the product, store and manage the product and deliver it in a timely manner. We don't want to have anyone else involved in that, which is why we've started building the infrastructure to get us to that point."
Oakerson said they don't have immediate plans to add more employees to the company's current staff of about 140 people, but he said they could bring on new hires as the project progresses.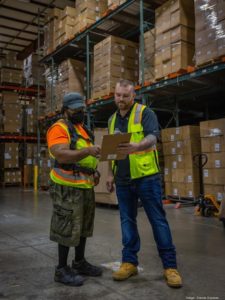 "We'll definitely add some manpower, I just don't know how many," he said.
Xtreme Express also wants to grow further beyond its current expansion. Oakerson said if the business continues to progress as it has since the company was founded eight years ago, its leaders could be looking for even more space prior to completion of the third phase in 2024.
"We want to have two or three of these campuses one day," he said.
Chuck Messer, project manager for Xtreme Express and general manager of Xtreme Limo, said while much of the attention is focused on large industrial developments in areas like New Albany and Marysville, he believes the company can carve out its own niche in Central Ohio.
"When this is done, I don't think there's going to be another logistics company, especially on the east side, that has a a compound like this," Messer said. "It will be massive for us as a company."