Article by Evan Weese, Columbus Business First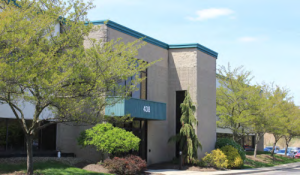 The Rush Creek Commerce Center II at 438-510 E. Wilson Bridge Road property, built in 1983, is under new ownership.
A lender-owned three-building office complex a mile east of the heavily traveled interchange of Interstate 270 and Route 23 has been acquired by a Columbus investor group.
Brad Kitchen, president of Alterra Real Estate Advisors, led the $3.74 million purchase of Rush Creek Commerce Center II, on 11.7 acres in Worthington.
The 438-510 E. Wilson Bridge Road property, built in 1983, was owned by Torchlight Loan Services LLC, a special servicer based in New York that took ownership in 2014.
Kitchen expects to complete minor renovations such as painting, landscaping and blacktop refinishing.  "Most of our deals tend to be value-add," he told me. "We feel we should be able to get it to at least market occupancy, if not more."
The three buildings – two single-story and one two-story – combine for 107,410 square feet, of which 21 percent is vacant. Alterra will manage the property and lease the 23,000 square feet of office and warehouse space available. The Roadhouse 66 Bar & Grille, a tenant in the building at 480 E. Wilson Bridge Road, is for sale.
Kitchen said occupancy was about the same or higher when Torchlight acquired the property for $3 million at sheriff's sale, but he expects the state's massive overhaul of the 270-23 interchange to improve business prospects.
"I think people for years have been avoiding that area," Kitchen said. "It's going to be fabulous once (construction) is done, with this new intersection being completed."
The investor group Rush Creek Investors LLC financed the deal through a $3.68 million mortgage from First Federal Bank of the Midwest.
Evan Weese covers real estate, money and the business of sports for Columbus Business First.